Disqus is the popular comment system used by thousands of blogs and websites. In my previous post i have written about how to install disqus on blogger. In this post i am going to write about how to import your blogger old comments on disqus.

Steps to import blogger comments on disqus
1. Login on your disqus account.
2. Go to dashboard and click on Discussions->import. Select blogger options and then click on blog name (In case if you have multiple blogs).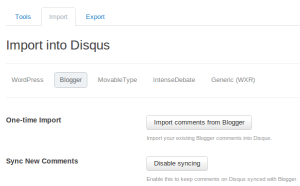 3. In final steps , Google asks your permission. Click on Grant access option.

Now you have done , import will take 24 hours to complete. Once import complete successfully, you get the email notification regarding completion of import process.
If you have any doubt regarding comment import you can check Disqus FAQ page.