Have you ever think why some people's profile pictures are showing up in search results. How they can do and what's the advantage of it.
Well they can do it through Google Authorship. The magic of Google Authorship can be setup in your blog through this link.
<a href="http://Google+profile" rel="author">Google +</a>
rel="author" this tag tells that you'r author and your Google+ profile need to link with your blog result. Let's add Google Authorship to your blog.
What's the Advantage of Google Authorship
Increased PageViews
Many bloggers claim that there pageviews is getting doubled once they added Google Authorship rich snippet on their blog/website.
Increase Trust and Authority
If you'r blog result comes with your profile picture and Google+ link, then it look more trustworthy as compared to those without.
How to Add Google AuthorShip
1. Create Google+ account, if you don't have.
2. Verify an email address.
3. Add your blog to Contributor to in links section on the right side of About page on Google+.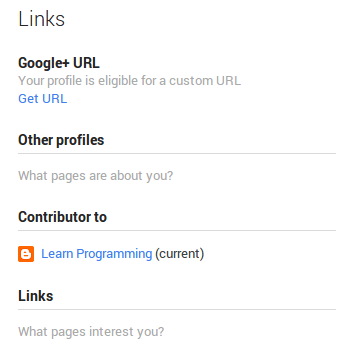 The first three steps are same for Blogger and WordPress User.
Next Step for Blogger
If you are using blogger, then go to Layout and click on Add a Gadget. Then select Profile Gadget.
You can find following text written on Profile Gadget.
Profile
Display information about yourself to your visitors
Once you added this widget on your blog you are done. Now it added successfully to your blog. You can check through rich snippet tool.
For Worpress Users
Now you have completed above three steps. Next Login to WordPress admin area, click on users and then Your Profile. Enter your Google+ profile in Google+ section then update profile.

How to Check if Google Authorship is Working
Don't panic if your Google+ picture doesn't appear in search result. It will take some time to appear your Google+ profile information in search results. But you can check the preview of your Google Authorship information using rich snippet tool.

I hope this post would help you to set up Google Authorship for your blog and website.